happy middle of the week blog-land! I hope you are enjoying all of these vegas posts... only a few more to go, so make sure that you comment and get yourself entered to win the give away at the end of the week! :) skipping around a bit again and bringing you the outfit from our last night in vegas. I saved it for the finale evening since it was my favorite! it was a new purchase right before the trip. I had searched all over to find something bright, sassy, and fun. you know, vegas style. I think that I succeeded.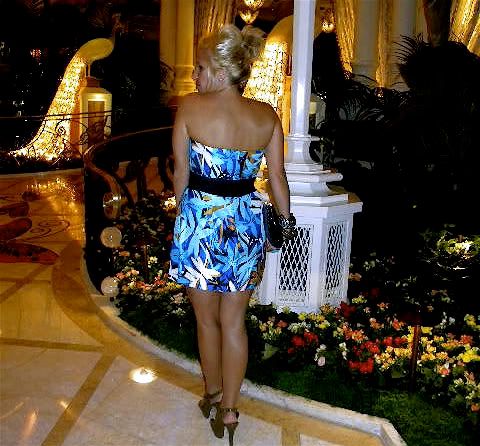 we also saved the swankiest club for the last night. we had our friend and vegas hook up put us on the VIP list for XS in encore. encore is the newer portion of the wynn and is right next door to it. I absolutely die over the decadence and decor there. when we did our "girl's trip" last spring we stayed at encore... and never wanted to leave! the rest of our group hadn't been to XS before, but I knew that they were going to LOVE it and it was a must see.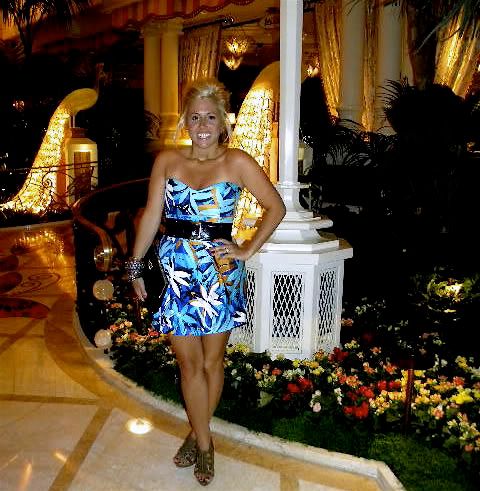 strapless dress (with pockets! squeal!)- jessica mcclintock
belt-bebe, patent clutch- bebe,
stilettos- chinese laundry (vegan shoes, thank you very much.)

I kept my hair simple in a high pony with some volume (like always). I also kept the jewelry to a minimum, just some rocking bangles. the dress was so "loud", bright, and oh so much fun.... that I really wanted it to take center stage and shine.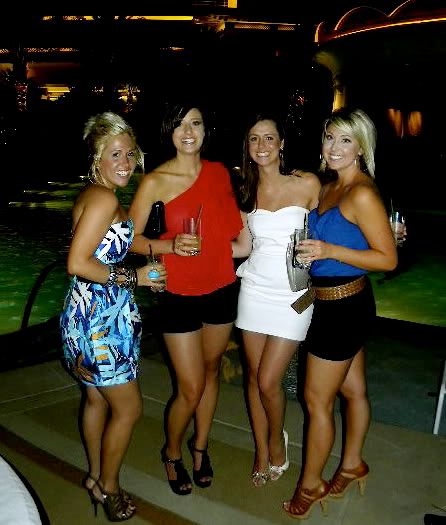 introducing the girls: rach, jess, and britt. here we are in the VIP area outside. do you know who else was there? only paris hilton AND all three of the kardashians. I don't particularly care for any of those people, but still... it was pretty neat to be in the same area as celebrities.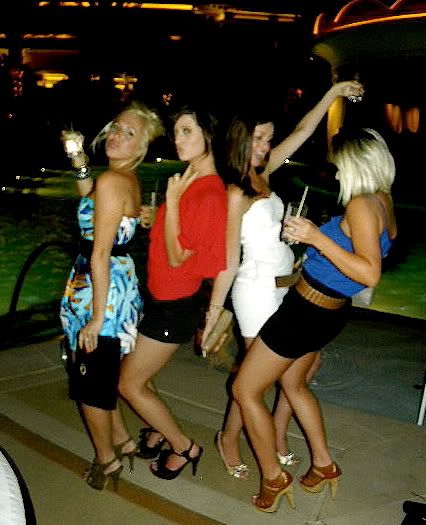 these girls are such a blast and all super stylish in their own way. I love having friends that I can grab fashion inspiration from and feed off of in a positive way.
my blonde soul mate, britt. check out the close up of the pattern on the dress. super funky! I am already dying to wear it out again. perfect for hot summer nights. again, I am so all about blue tones this summer. get on board with it. ;)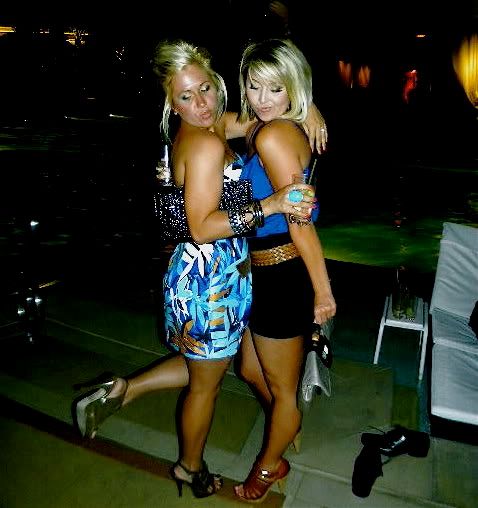 so the interesting and fabulous part about XS is that is an indoor and outdoor venue. when the sun sets, the club takes over the cabana area of the pool. so when you need some air, you just breeze out the massive open doors (floor to ceiling, looks like a wall is missing) and step into the pool area. the VIP bar is in the middle of the pool which is pretty fantabulous if you ask me.
the hubby and I at the bar in the middle of the pool.
gorgeous rach. these are my LA girls who I am going to be visiting in a few weeks.
the best part about being next to the pool? when those killer heels hurt, you can toss them off and have a dance party in the water! you can see one of the bar areas in the pool right behind us.
please believe that this water dance off went on for at least 30 minutes. so much fun!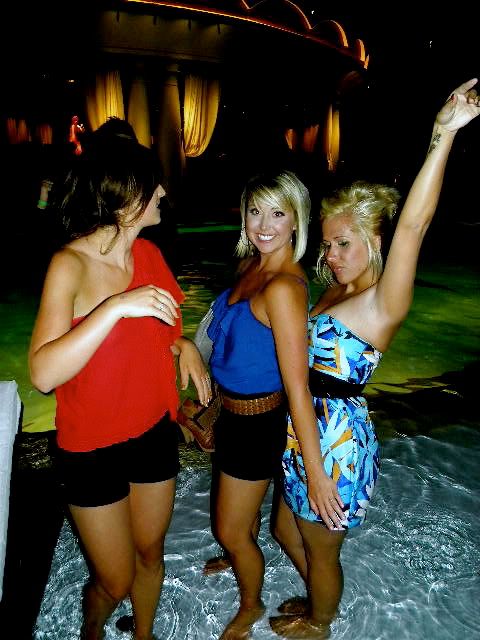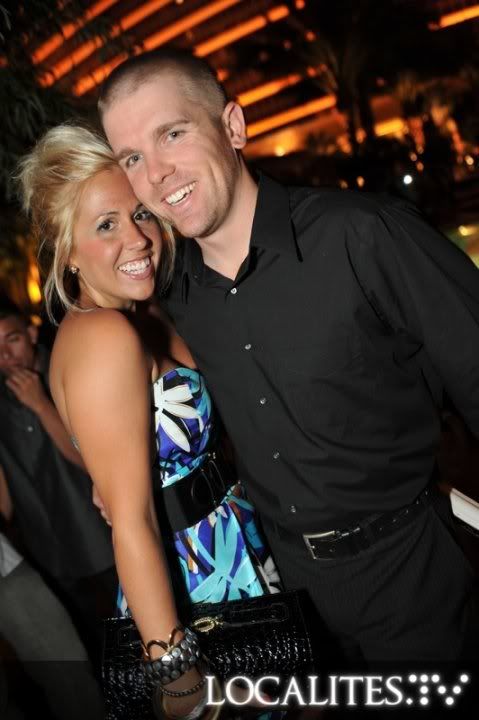 grabbed one of the shots that the profesh photographer took for us.
david and rachel are one of our favorite "couple" friends. they are so silly and even though they both are extremely focused and determined individuals (doctor and accountant) they can laugh and not take themselves seriously at all. it is such a rare thing to find another couple that you both truly get along with. really wished we all lived closer! we already have a vegas trip in the works with these guys for the end of october. you heard me.
halloween. in. vegas.
costume planning has already commenced!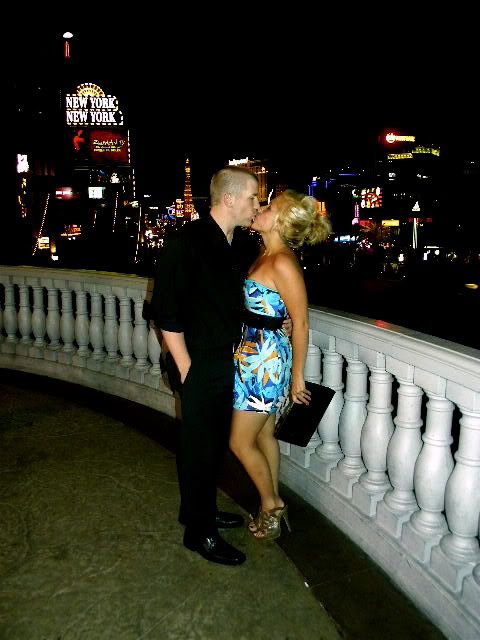 end of the night. the last night of vacation is always bitter sweet. here are some shots of the club for you, so you can see for yourself how amazing it is!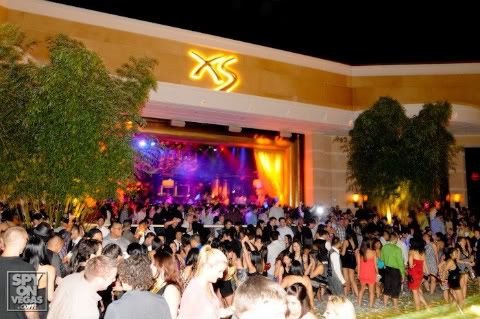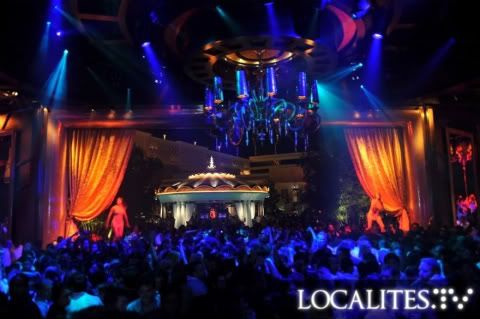 and in case you thought I forgot... here is a HINT about the give away that I will announce on friday...

and that is all from me today. check out the other two vegas posts and comment away! I have yet to hear any out of control silly vegas stories! some one better leave me something :)