happy happy happy thursday. over in the u.s. we are nearing fourth of july weekend! I hope that everyone is able to take some time off and enjoy the day. my hubby will, of course, be at work... protecting our country. so I will just be laying low. and laying inside since its so darn hot in tucson! it was 110 just yesterday and they were saying that it wasn't even close to record high temps. what?! insane. well, we are nearing the end of vegas week which makes me a sad girl... just looking at these pictures lets me re-live the fun of the vacation. but back to real life until the next trip. which is san francisco in ten days. but really, who is counting?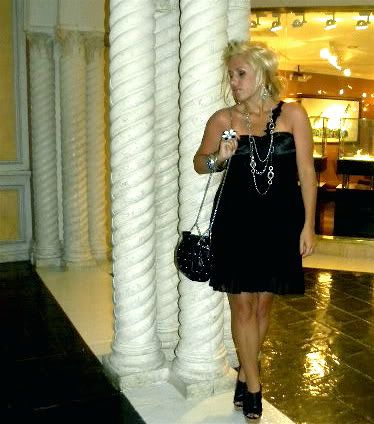 if you know me, then you know that I am constantly on the hunt for my next LBD. I live for these dresses. so, obviously, I packed a few for vegas. when I found this one I knew it belonged in my closet with the collection (by the way I am currently unpacking my closet and I will get an accurate and final count of how many LBD's are in there). it had a grecian feel to it, with its flowy layers and one shoulder strap. and you know how I adore flowy dresses.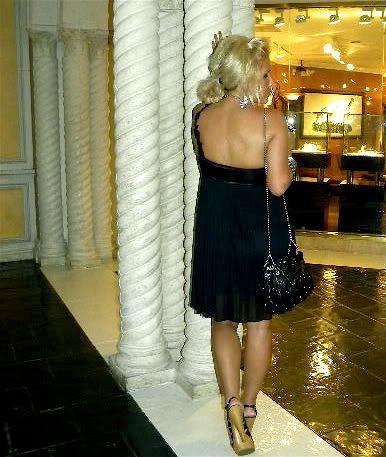 again, I kept my hair simple. I kept meaning to wear it down, but it was just to muggy and hot outside to do it. and in a town like vegas, it is just easier to have it up since you might end up being out all night. no one likes flat hair at five am, ok? lots of silver accessories on this trip. I didn't get close up shots, but I am rocking silver feather earrings, and a fun multi layer silver necklace. same killer heels from the zebra maxi post. and by killer I mean I was dying in them. no pain, no gain ladies.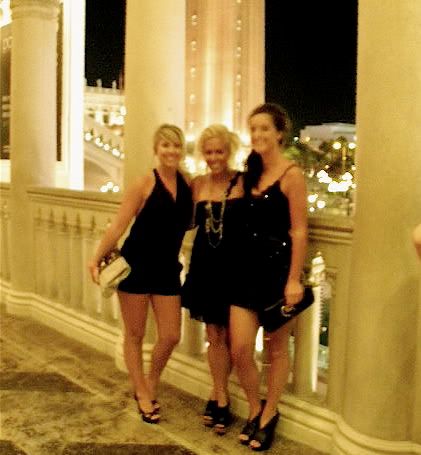 all the girls in our LBD's and our black stilettos.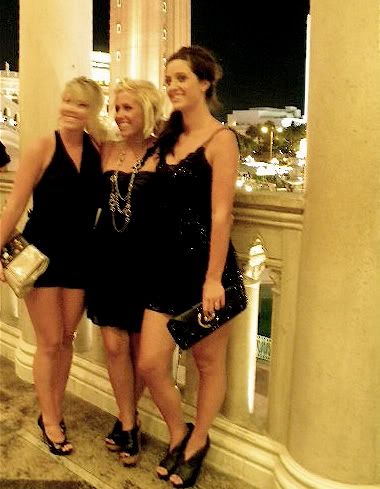 we were outside at the venetian once again here after spending the night at tao. have you eaten there? the food is fantastic asian fusion, and when it turns into a night club all of the celebs show up. I'm not even going to say who we saw... sometimes you have to keep your lips sealed. :)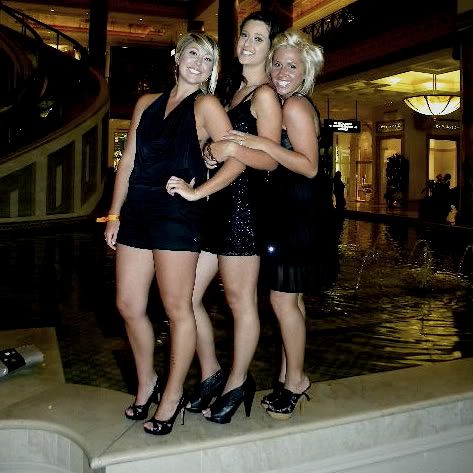 later in the evening our male counterparts decided that cheesecake was in order, so we hoped across the strip to caesar's. where, conveniently enough... there was a cheesecake factory that was open until four am. why thank you las vegas, don't mind if we do. also, I am feeling like a super short old lady in this picture because my home girls are like six feet tall models and my dress looks too long for a night out in vegas.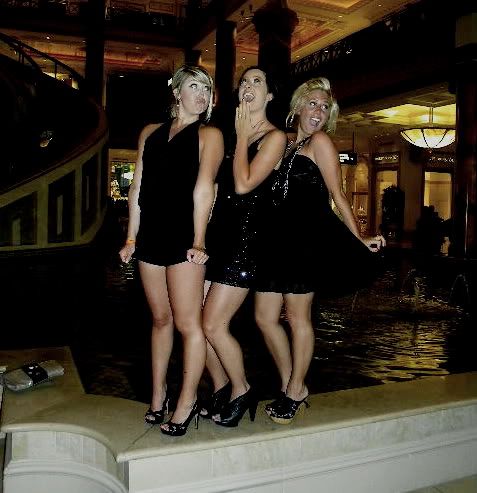 anyways, dress- BCBG
black stiletto platforms- bakers
black chain purse- thrifted
silver feather earrings- h&m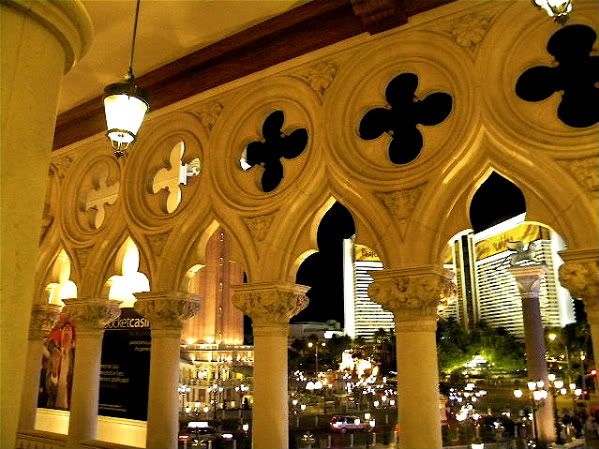 I heart them so much.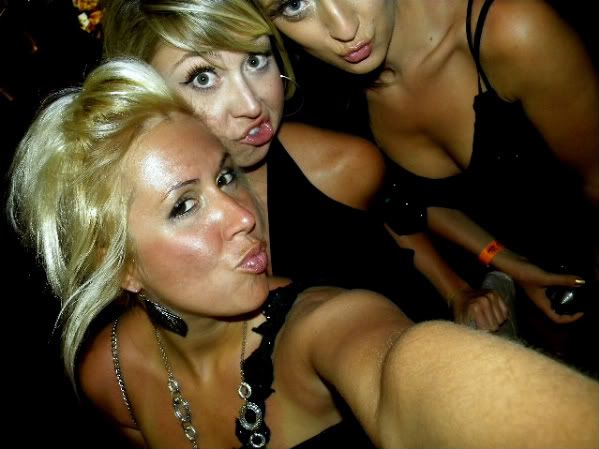 silly on our way over to caesar's.
and of course had to include a shot of my man.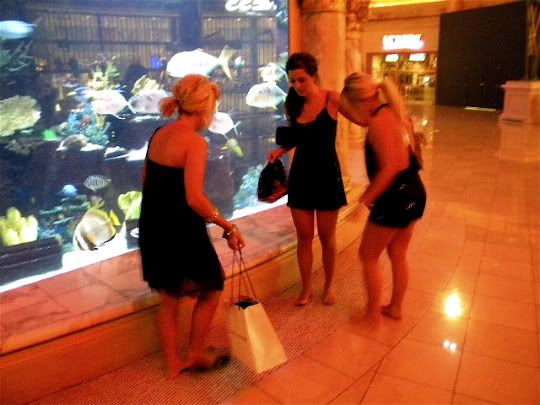 by the end of the night and the walk around the strip, our poor feet were done for. we all tossed the shoes... and luckily enough my husband loves me and didn't want me to walk vegas bare foot.... so he ran his butt over to the marc jacobs store in the front of the forums and purchase some little black flip flops! :) that's right, some LBFF's. sometimes, I just kind of love that man.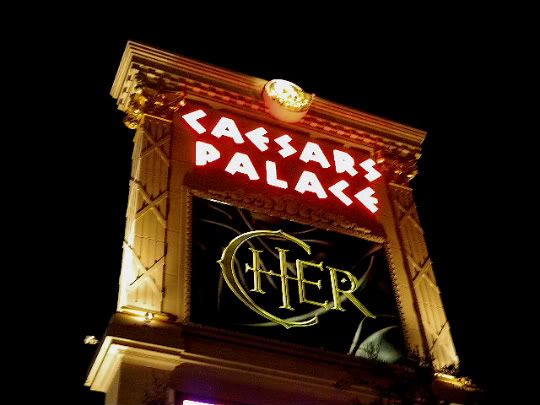 the rest of the gang took a taxi back to the mgm, but we decided to walk for a bit. the best part about vegas is that it is always so alive. there is something to see or do at any hour. after a few months in tucson we needed to be reminded what a real city was like. one that never sleeps.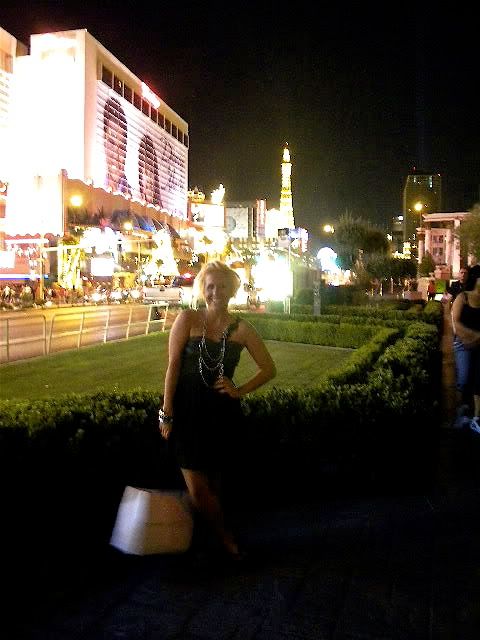 hope you are still enjoying the vegas shenanigans. let me know what your plans are for the upcoming fourth weekend! and if you haven't commented on all the vegas posts, make sure you do. :) going to post the photo in tomorrow's post of the secret give away actual is! have a fabulous day.